Welcome
The mission of Sullivan's Funeral Home is to care for families in our community with the same compassion, dignity and respect as if they were our own.
Obituaries
Click on your loved one to leave a memory for other viewers.
View All
---
GIVE YOUR LOVED ONE A LIVING LEGACY
Plant Memorial Trees
We are proud to be partnering with The Arbor Day Foundation to plant memorial trees across the country.
Select a Forest
We are committed...
to listening and understanding each family's unique requirements in honoring the memory and mourning the loss of a loved one. Our staff will lend support and guidance in understandable terms and offer services that meet the family's financial needs.
We've put you first
Enjoy Peace of Mind
---
We have adopted tailor-made software which makes your entire experience much smoother. With customizable obituary pages, easy to build memorial videos, simplified after-care and funeral live streaming we've tailored our practices to continue to put families first.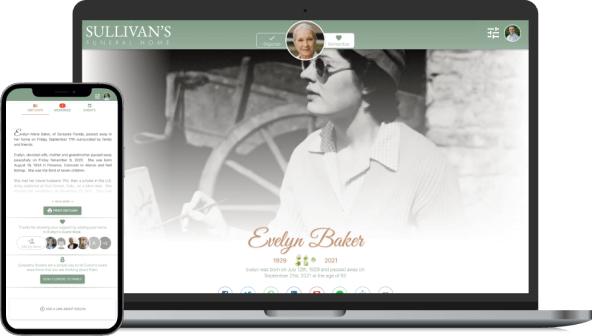 CUSTOMIZE
Choose a unique theme for your
loved one's memorial page.
---



COLLABORATION PRESERVED FOREVER
Invite Family & Friends to
upload photos.
---

RELIVE MEANINGFUL MOMENTS
Visitors can add & view memories of
their loved one.
---

KEEPSAKES
Flowers & Cards are preserved and
displayed on your loved one's page.
---

Show Compassion
Order Flowers
Use our simplified system to order from local Horseheads, NY florists.
Order Now